Our Olympic history
Following London 2012, the University of Sydney has produced 140 Olympians and Paralympians who have represented Australia.

Several of our athletes have competed in four or more Olympics, such as Liane Tooth (hockey), Peter Montgomery (water polo), Loudy Wiggins née Tourky (diving) and Thomas Whalan (water polo), as well as Paralympian Angela Ballard (athletics).

Our Olympians' greatest medal haul at one single Olympics occurred at the 2000 Sydney Olympics, where they won a total of nine medals – four gold, four silver and one bronze.
Our first Olympian
The University's first Olympian (and first medal winner) was Nigel Barker (pictured above, right). In 1904, he was selected to represent Australia in athletics at St Louis in the United States, then at the 1906 Olympics in Athens he won the bronze medal for the 100 and 400 yard sprints.
To Olympic fame and beyond
Much mystique surrounds Reginald Leslie ('Snowy') Baker, who is a true sporting all-rounder and the only person to have participated in three separate sports at a single Olympiad.

In 1908 Baker won a boxing silver medal (middleweight division), came sixth in the fourth heat of the 'fancy' springboard diving, and was a member of the Australian freestyle swimming relay team, which won its heat and finished fourth in the final.

Baker's sporting achievements aren't restricted to the Olympics – he was reputed to have excelled in 26 different sports and played two rugby tests for Australia against the touring 1904 British Lions.

According to three of Australia's most highly regarded Olympic historians (including Harry Gordon), Snowy Baker studied Engineering at the University of Sydney, where he was awarded blues for athletics, boat (rowing), cricket and football.

As some of this is difficult to prove from 100-year-old University records, long may the mystique continue!
Hitler's 'Nazi Olympics'
At the 1936 Berlin Olympic Games (universally known as Hitler's 'Nazi Olympics'), our student Jack Metcalfe was the only Australian athlete to win a medal. He won bronze in the men's 'hop, step and jump', which is now known as the triple jump.
Last time in London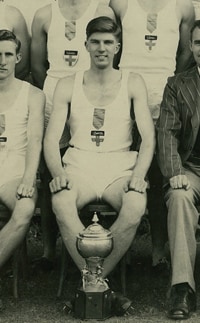 When the Olympics were last held in London, in 1948, University of Sydney Olympian John Treloar was ranked as one of the world's fastest men. While he was eliminated at the semi-final stage of the sprints in London, at the 1952 Games in Helsinki he finished sixth in what was then the 100 yard final, just 0.1 seconds behind the winner in what is believed to be the closest finish in the Olympics 'blue riband' sprint.

Treloar studied mechanical and electrical engineering at the University of Sydney, where he made such progress in his running that his parents provided a professional coach for him and supported a pre-Olympics training trip to the United States. "All my running had been on grass. I needed to practise on cinder tracks," he told the Sydney Morning Herald earlier this year.

Arriving in post-war London was a thrill, but "the place had taken a terrible battering", Treloar recalls. Unlike today, when athletes' diets are tailored to their individual needs, choice was limited for the 1948 Australian team.

"We were told there was a giant crate of juicy Aussie steaks on its way, but they 'went missing' at Tilbury Docks," Treloar told the SMH. "I seem to remember it was kippered herrings for breakfast, lunch and dinner."

Treloar sadly died just before the London 2012 Olympics began. In a statement to the AOC John Treloar Jr said of his father: "Dad passed away exactly as he ran. Quickly."
Read an article in the Australian reporting John Treloar's death.
Watch a video of John Treloar recalling the London 1948 Olympics (on the Australian Olympic Committee website).
From fencing to banking
Having studied a combined Arts/Law degree at the University of Sydney, 1956 Melbourne Olympic Games fencer James Wolfensohn went on to become the ninth President of the World Bank.
First medallist in 1964
Theo (Ted) Boronovskis won Australia's first-ever Olympic medal for judo in the elite open division of the 1964 Tokyo Olympics. After excellent victories in the first and second rounds, Boronovskis finally met his match against the Dutch world champion (and eventual gold medallist) Anton Geesink.

Watch a video of Boronovskis competing against Geesink at the Toyko Olympics, below.
Keeping it in the family
Our most decorated Olympian is arguably Liane Tooth (pictured right), quadruple Olympian and dual gold medallist, and daughter of Wallaby fly-half and captain, Dr Dick Tooth, an alumnus of the University of Sydney. Liane won gold with the Australian women's hockey team (the Hockeyroos) in Seoul in 1988 and again in Atlanta in 1996. She was one of the eight flag-bearers of the Olympic flag at the opening ceremony of the Sydney 2000 Olympic Games.
Diving for gold
Matthew Mitcham caught the world's attention in a dramatic 10m platform diving final at the 2008 Beijing Olympics.

Mitcham needed a near-perfect score in his sixth and final dive to win an unlikely Olympic gold. The Chinese divers were firm favourites, having swept gold medals in all the events so far. It seemed the best Mitcham could hope for would be silver. Instead, he shocked the world by nailing a dive that gave him a score of 112.10 – the highest single-dive score in Olympic history. He had won Olympic gold in the most exciting way possible.

Mitcham enrolled at Sydney Uni after his success in Beijing, and headed to London with the support of a Sydney Uni Sport & Fitness Scholarship.

Read a news story about other Sydney Uni Olympians' medal success in 2008.
Content provided by Sydney Uni Sport and Fitness