Origins and early years (1850-1900)
In creating Australia's first tertiary education institution, our founders recognised the power of education to change society. We hold that belief just as strongly today.

These web pages provide a brief overview of the history of the University of Sydney and the major figures of our history, including those who studied here and went on to have a major impact after graduating.

A number of authoritative sources provide more detailed information.
---
A university for all
The birth of the University of Sydney in 1850 broke with the traditions of Britain's ancient universities by admitting students on academic merit rather than on the basis of religion or social class. (See photo of William Charles Windeyer, one of the University's first graduates and a scholarship student).

Fierce debate about university reform among academic and national leaders in Britain and North America had led to calls for tertiary education institutions to respond to social change and meet the demands of modern society.

Sydney was one of the first of this new breed of institution, the first university in Australia and the model that universities in other Australian colonies would soon follow.
The University of Sydney Act received royal assent on 1 October 1850. The University emerged from a decade of "social and political revolution", as described by John Woolley, the University's first principal and professor of classics.

The transportation of convicts to New South Wales had ended in 1840 while the arrival of free settlers had accelerated. Under pressure from activists such as William Charles Wentworth, there were moves towards self-government where the governor would no longer act autocratically, but only on the advice of the colony's elected representatives.

Wentworth was also one of the University of Sydney's founders. Like other leading colonists, he believed that a local university was essential to educate the future leaders of the colony. As a member of the New South Wales Legislative Council, he argued that a university, secular and open to all, was essential for the growth of a self-governing Australian society. He wanted this new university to be based on principles that would enable "the child of every class, to become great and useful in the destinies of his country … whether they are disciples of Moses, of Jesus, of Mahomed, of Vishnu, or of Buddha."

There have been many struggles over the decades to extend these early principles of 'social inclusion', to admit students on the basis of academic merit regardless of their socioeconomic, religious or cultural background. But in their modern incarnation they remain integral to today's University as we welcome the most promising students.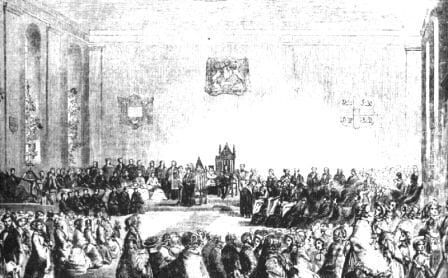 Above: The inauguration ceremony 1852, photo, courtesy University of Sydney Archives.
---
A culture of benefaction
As the University started to grow during the second half of the 19th century, it evolved to respond to the needs of its students and the wider community.

It was also during this time that a culture of benefaction and philanthropy became firmly embedded in Sydney's success.

One of our pioneers was Charles Badham (pictured right), the University's second professor of classics, who, driven by his vision that university education should be available to all academically able students, campaigned for the introduction of bursaries to support students of genuine need during their degree.
Charles Badham, formerly headmaster of Edgbaston proprietary school in England, and a talented classics scholar, arrived in Australia in 1867 to succeed Woolley as professor of classics. He made his mark academically by moving to a more liberal approach to undergraduate studies, including the removal of compulsory Greek from university matriculation.

He travelled throughout rural New South Wales to inspire interest in the University, seeking not only to attract potential students but also to encourage people to fund bursaries for students disadvantaged by distance, financial or personal circumstances. (Apparently, he wasn't averse to chastising those well-to-dos for not fulfilling what he saw as their civic responsibility to endow bursaries).

The first bursary at the University of Sydney was the Maurice Alexander bursary, endowed in 1874 with a gift of £1000 from Alexander's widow. The bursary first supported Edward Raper, who quickly took advantage of the sporting opportunities at Sydney – he captained the University rugby football team in the late 1870s and led the first New South Wales team on its New Zealand tour in 1882.

"This University is not only for those who have private means or professional connections to start them; it is founded for the people," said Badham in 1879, five years after the grant of the Alexander bursary. In the intervening years, bursaries had allowed 11 students to attend university who otherwise would never have had the opportunity.

Also during this time, a culture of philanthropy became firmly embedded in Sydney's success thanks to John Henry Challis, the University's first major benefactor, whose bequest transformed teaching and learning across the University and is still one of the largest the University has ever received.

Challis had arrived in Australia in 1829 as a steerage passenger and subsequently developed a successful career as a merchant dealing in wool and other goods, and built up large landholdings.

In 1880, the University Chancellor, Sir William Montagu Manning, announced Challis's bequest of £276,000, equivalent to $32 million today. The bequest spurred the colonial government to increase its annual grant, and quickly transformed learning and teaching across the University in fields ranging from medicine and science to law, literature and engineering.

Between 1880 and 1891, a separate science faculty was established and the faculties of medicine and law, initially established as examining faculties in 1856, now had secure funds to develop teaching programs. Scholarship flourished, and four of the professors appointed in that period became fellows of the Royal Society of London.

Challis's generosity inspired others. In 1885 the University received £30,000, worth almost $4 million today, from the estate of the late Thomas Fisher, the son of convict parents who had made his money from a lucrative boot-making business and astute property investments. The bequest was to be used "in establishing and maintaining a library".

In his later years, Fisher lived near the University and although not a university-educated man, was remembered to have walked through the University of Sydney grounds and talked with staff and students.

The original Fisher Library, now the MacLaurin Hall, was purpose-built as an extension to the Quadrangle to house the University's increasingly large collection of books. Today's Fisher Library, built between 1958 and 1962, is one of the University's first modernist buildings.
Above: The Main Building in 1870, photo, courtesy University Archives.
---
Admission of women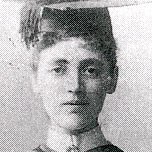 In 1881 the University decided to open its doors to women, admitting them on the same basis as men, among the earliest in the world to do so, and many decades before either the University of Oxford or Cambridge.

Although the University's Senate resolved to "admit women to all University privileges, and to place them in all respects as regards University matters on an equal footing with men," the path was not always smooth. In particular, there was resistance to the University's decision to let women study medicine (justified on the grounds that intimate discussion of the human body was not fit for the ears of young ladies). Even so, some women braved disapproval to study medicine, the first being Dagmar Berne, who in 1886 enrolled in the recently established medical school.
The first generations of women to study at Sydney have left their mark in many ways. One of them, Jane Foss Russell, was in the second group of women to enrol at the University, graduating with a BA in 1886 and an MA in 1889.

Jane Foss Russell was passionate about higher education for women, and soon after graduation, went on a study tour of women's colleges in England, including visits to Girton and Newnham colleges in England.

On her return to Sydney, Jane Foss Russell was appointed Tutor to Women Students from 1892 to 1899, a position created in the 1880s to help women students accommodate themselves to university life, and was the only female position on the University's teaching staff for some years.

Upon marriage to the University Registrar, HE Barff, she resigned from this position, but continued to be committed to the enrichment of women's experience of student life. She was a founding member of Women's College, a co-founder of the Sydney University Women's Association, and helped to establish the Sydney University Women's Society, an outreach organisation to promote the importance of girls' education and encourage more to attend university.
---
Sources
This website provides a brief overview of the history of the University of Sydney and the major figures of our history, including those who studied here and went on to have a major impact after graduating.

The website of the University's Senate also provides links to interesting information and articles about the University's history.
For a more detailed history, you may find one of the following publications useful:
Australia's First: A History of the University of Sydney, Volume I 1850–1939, by C Turney, U Bygott and P Chippendale, and Volume II 1940–1990 by WF Connell, GE Sherington, BH Fletcher, C Turney and U Bygott
University of Sydney Architecture by Trevor Howells (introduction by Julia Horne and Trevor Howells)
Australian Dictionary of Biography
---