Funding to assist remote training of carers
1 March 2013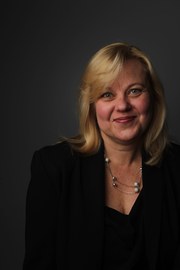 Professor Leanne Togher has been awarded a grant to examine the use of video conferencing to deliver social communication skills training to carers of people with traumatic brain injury.
The grant is part of the Australia-wide $530,000 Institute for Safety, Compensation and Recovery Research (ISCRR) 2013 Development Grants Program
ISCRR's CEO Professor Niki Ellis said that twelve new research projects focusing on improving outcomes for TAC and WorkSafe Victoria clients had been funded through the 2013 program.
"The grants support smaller scale research projects over a 12 month period. It is an important opportunity for researchers to initiate research that could benefit the clients of compensation schemes."
Professor Togher will conduct the study in collaboration with her University of Sydney colleagues, Dr Emma Power and Rachael Rietdijk.
"Communication impairment is a common consequence of traumatic brain injury (TBI) and research shows that over 70% of carers feel anxious in dealing with the challenging communication behaviours of those in their care," Professor Togher said.
"Unfortunately, carers have little support or training to deal with changes in the communication of their relative following brain injury, particularly those who live in rural and remote regions.
"Telehealth is a service that assists healthcare professionals to conduct video consultations with their patients.
"In this project, we will look at how telehealth can assist in delivering social communication skills training remotely to carers of people with traumatic brain injury."
This is the third year that ISCRR has offered Development Grants. Professor Ellis said that the growth in interest in the program was very encouraging.
"We received just over fifty proposals this year. This is more than double the number we received in the first year.
"This shows that the grants are helping to build the capacity of researchers to do interesting work in the field of compensation health. Overall, the applications were innovative, insightful and of such high quality that we increased the funding allocation in order to support more projects."
Applications were assessed on the basis of alignment with ISCRR's research strategy, their potential for positive impact within 12 months, scientific quality and feasibility, innovation and the track record of the research team.
ISCRR is a joint venture between Monash University, WorkSafe Victoria and the Transport Accident Commission (TAC).