Academic Committee
Associate Professor Judy Anderson
Chair
Faculty of Education and Social Work

Dr Judy Anderson is Associate Professor in mathematics education, a leader in the development of the STEM Academy for Teachers, and a member of the University Academic Board. In her role as secondary mathematics curriculum coordinator, Judy has been teaching and researching at the University of Sydney for twelve years.
---
Ms Jackie Blue
Mathematics Advisor 7-12
Learning and Teaching Directorate, NSW Department of Education
---
Katherin Cartwright
Mathematics Advisor K-6
Learning and Teaching – Early Learning and Primary Education
NSW Department of Education

Katherin Cartwright is currently the Mathematics Advisor K-6 for the NSW Department of Education. Katherin supports teachers and schools across NSW in developing quality mathematics teaching and learning programs. Katherin works collaboratively with the Science and Technology Advisor K-6 with their Primary STEM Action School project where 8 schools from a variety of locations are mentoring other schools interested in implementing STEM education in authentic contexts.
---
Ms Alison Galagher
Head Teacher Science,
Fairfield High School

Alison Galagher is head teacher of science at Fairfield High School.

She has worked exclusively in low SES schools in South-West Sydney and is focussed on maximising the educational outcomes of disadvantaged students.
---
Associate Professor Dieter Hochuli
Integrative Ecology Group, Faculty of Science

Associate Professor Dieter Hochuli runs the Integrative Ecology Group at the University of Sydney. His research focuses on the ecology of terrestrial invertebrates and their interactions with the environment, identifying how human impacts affect ecosystem health. He coordinates the School of Biological Sciences' honours and Talented Student Programs for high achieving students. He has been a member of the steering committee for the University's Women in Science Project since its inception in 2007.
---
Mr Anthony Kadi
Director of Professional Engagement, Faculty of Engineering & IT
---
Professor David Lowe
School of Information Technologies, Faculty of Engineering and Information Technologies

Professor David Lowe is the Associate Dean (Education) and Professor of Software Engineering in the Faculty of Engineering and Information Technologies at the University of Sydney. Professor Lowe was formerly a Director of the Centre for Real-Time Information Networks (CRIN), a designated research strength at the University of Technology, Sydney focused on blending embedded systems and telecommunications to address real-world problems.
---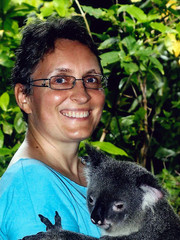 Dr Milena Radnovic

My research interests are in Geometry of Integrable Dynamical Systems.

My research experience includes mathematical billiards, theory of algebraic curves, their Jacobians and theta- functions, ergodic theory, integrable systems on lattices and Yang-Baxter equations, singularity theory, Painlevé equations, topology of integrable systems.
---
Dr Louise Sutherland
Faculty of Education and Social Work

Dr Louise Sutherland is a Senior Lecturer at the Division of Undergraduate and Pre-service Programs. Dr Sutherland is also Program Director of MTeach (Secondary) and Coordinator of the Science Curriculum for K-12.
---
Dr Diana Warren

Di was awarded the Faculty Of Science Outstanding Teaching Award in 2017 for inspiring lecturing and continual educational innovation focused on increasing student motivation and engagement, particularly in very large courses. She is responsible for overseeing the curriculum development of first year Data Science and Statistics courses, with increasing emphasis on current data stories, problem-based learning and student's ability to write and present collaborative reports.


---
Ms Tracey Warzecha
Head Teacher, Curriculum,
Riverside Girls High School

Tracey Warzecha brings 30 years of Science teaching experience in Inner city, Northern and South Western Sydney and is currently Head Teacher Curriculum at Riverside Girls.

Maximising student engagement and differentiating the curriculum by developing and teaching innovative programs with real world relevance have been recognised in her involvement in High Performance Learning regional projects, cross-curricular PBLs and in presenting at the Australian Curriculum Conference. She is an experienced HSC Chemistry marker and Assessor. Tracey is an acknowledged advocate for Aboriginal Education.

---
Associate Professor Jennifer Way
Faculty of Education and Social Work

Jenni is the Program Leader of the STEM Academy Primary Program. She is a researcher in effective pedagogies for mathematics education, with particular interests in educational technologies and the role of motivation and engagement in student learning, and lecturers in primary and early childhood mathematics curriculum and pedagogy.